14K Gold Vampire Fang Grillz
Bling your teeth with this premium grillz set!
Note: Only sold in set (top and bottom pieces sold together)
One size fits most
Six teeth on top grill, six on bottom
Wolf fangs on both ends of top grill
Top Width: 2,35 in (flat without bending)
Bottom Width: 1,70 in (flat without bending)
Material: Copper and Zinc alloy plated with 14K gold
Comes with silicone molding bars and instructions
Easy to fit
Lead/Cadmium/Nickel free
Free Shipping!
OUR CUSTOMERS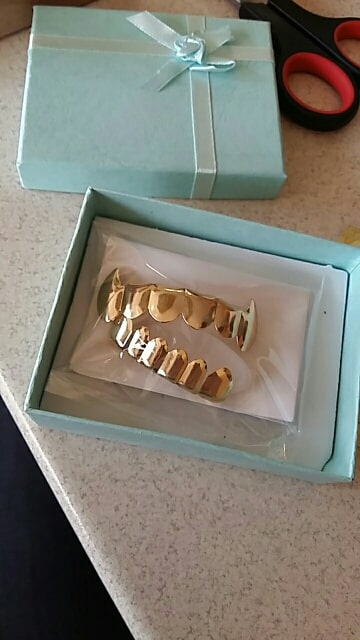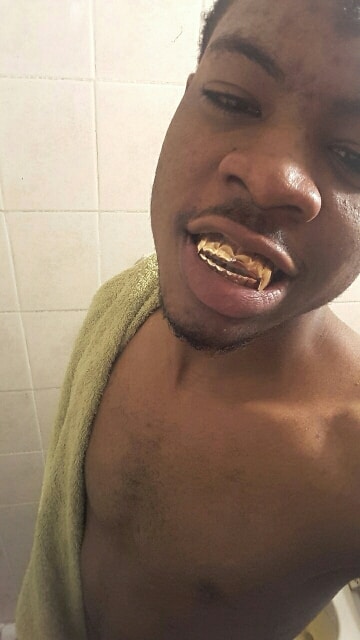 A THOROUGH 14K GOLD VAMPIRE FANG GRILLZ SET REVIEW

There aint nothing snazzier than a top and bottom vampire grillz set. Now, if you wanna go all out, this is one way to do it, cause these 14K gold pimped mouthpieces are bright, shiny, and will not break the bank. We review these products so you can make the best decision. Man, forget Twilight and everything about those vampire wannabe lil' kids, this is the real Wesley Snipes Blade type of s**t! Just lay back in the club, pop a bootle of Pinot and enjoy the frightened look of peeps thinking you drinkin blood with fang grillz.